IMPORTANT: It is highly important you keep in mind that truck accidents are different than ordinary car accidents and these are the truck driver accident procedures or 10 . The filing process for compensation is completely different, and you need to make sure that you always protect yourself (by hiring an experienced truck accident attorney). Below, you will see the steps that you should take immediately after being in a truck accident.
Getting in a truck accident can be a rather stressful situation, but in order to shed some light during a tough time, here's a quick overview of truck accident procedures that you should embrace if you find yourself in an accident with an 18-wheeler.
These post-truck accident procedures are strictly for educational purposes only, so keep in mind that there is no solid substitution for the advice of a Houston trucking accident lawyer. With that said, it will give you a great starting point when it comes to building a solid foundation that you can count on should the need arise for you to seek compensation from a truck driver and/or trucking company.
Step #1 – It is your responsibility to stick around at the scene of an accident.
Even if you weren't in the accident yourself, and you saw it happen, make sure that you stay at the scene of the accident until law enforcement lets you go. Doing this will prevent you from being charged with leaving the scene of an accident or hit-and-run. As a licensed driver on the road, it's your responsibility to remain present at any time that you experienced or witnessed an accident.
State laws, as well as the Federal Motor Carrier Act, require drivers involved in an accident stop and exchange information and/or stop to render aid. This also gives you the chance to evaluate the scene and render any aid that may be immediately (if there are parties in bad shape, this would be where you call for medical assistance). Keep in mind that while you can provide assistance, you shouldn't do so where it could lead you to danger as well.
Step #2 – Make sure that law enforcement/emergency services have been contacted.
This is essential as it provides the opportunity for the truck accident to be legally documented (via a police report) and helps start the investigation of the accident. If the truck driver tries to blame you or another party for the accident, this is where things will get nipped at the bud so that the truth can be uncovered.
Even if the truck driver tries to talk you out of calling law enforcement, it's critical that you stick to your guns and do so. If any other emergency services are needed this is where they are contacted as well.
Step #3 – Exchange essential information with the other party (or parties) involved in the accident.
Anyone that is involved in a truck driving accident needs to exchange their information with each other to ensure that it is known who all was involved. Not to mention, it also provides a way for the parties to be tracked down should a lawsuit be filed, or something further is required of them.
You might think that writing the trucking company's name down is enough, but oftentimes it is not as they can get rather hard to track down. With that said, make sure that the following information is collected from anyone else who was involved in the truck accident.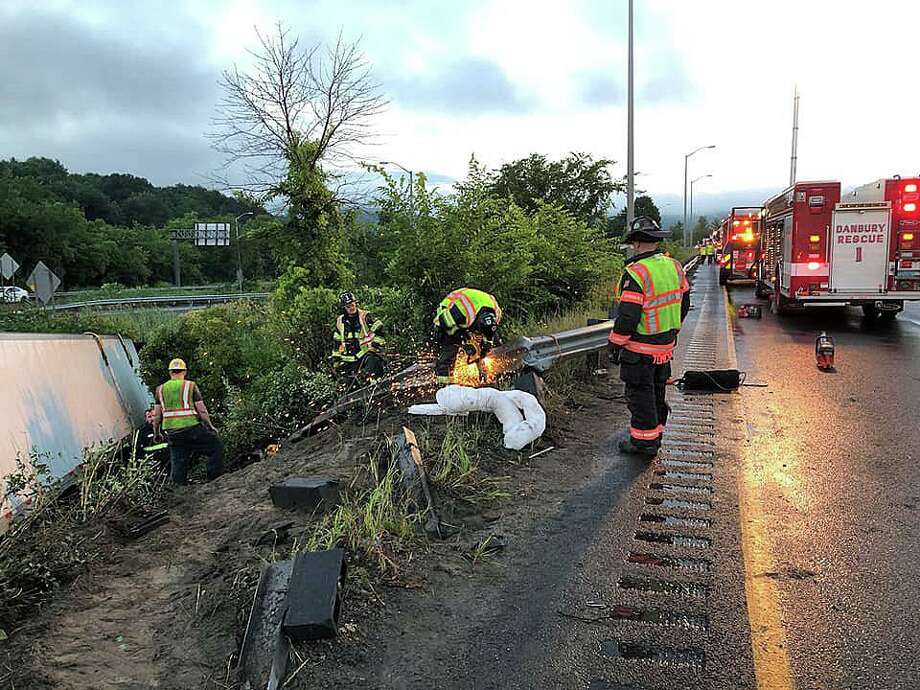 · Driver's license numbers for the truck driver and any other drivers involved.
· Insurance company name and policy number of the other driver(s).
· Name of the trucking company and their direct contact information.
· The driver's address, email address, full name, and phone number.
Step #4 – Try to locate any witnesses who saw the accident when it happened.
A lot of the time you will find the witnesses on the scene after the accident, and you can either get their contact information should they need to be contacted in the future to provide a statement or testify about what they saw when it comes to the truck accident or you can get a written statement yourself.
The best way to approach this is to do both, but there are times when the scene of an accident is so hectic that you can only get their contact information. Either way, you will need to provide this to the truck accident attorney of your choice.
Another way to locate any witnesses of a truck driving accident is to refer to the police report(s) as they will usually contain the names of any witnesses who provided statements to law enforcement. If there are serious injuries an experienced personal injury lawyer will do everything possible to track down witnesses.
Step #5 – Ensure that you contact your insurance company to report the accident.
Any time that you are in an accident, it should be a natural reaction to let your insurance company know that you were involved in an accident. This will save you from the risk of them pulling your coverage due to failing to provide them with notification about the accident at hand.
If at any time you speak to the insurance company of the at-fault truck driver, don't admit to anything and don't subject yourself to providing a statement to them via a recorded conversation or via writing until you have consulted with a personal injury attorney. A truck accident lawyer will most likely handle the communications with their insurance company anyways to ensure that you're legally protected.
Step #6 – Document the accident while you still have a chance to do so.
With a cell phone just a reach away, it is easier than ever to take pictures and document any kind of traffic accident (which is especially useful for 18-wheeler accidents). You will want to take pictures of any damages, your personal injuries (as well as injuries to the other occupants of your vehicle), and the accident scene itself. This can only help when it comes to proving the extent of the situation, whether in court or out of court.
Step #7 – Keep all necessary documents/records needed to help establish damages.
This means medical bills, medical records, shop bills, proof of your income prior to getting in truck accidents, and anything else that is directly related to the truck accident. By doing this, you will ensure that there is no stone left unturned when it comes to calculating a fair settlement.
Step # 8 – Watch what is said, and do not put yourself in a bad spot.
This means to hold back from apologies and don't admit to anything at the time of the truck accident. If the truck driver tries to put you at fault for the accident, make sure you obtain legal counsel and let them know as this is rare but not something that is non-existent. The last thing you want is for something that you said at the scene of the accident being held against you.
Step #9 – Seek treatment for your medical injuries immediately.
Even if it doesn't seem like you were injured in the truck driving accident, get checked out to ensure that there are no issues that are going to arise. By seeking medical attention right after the truck accident, you will be able to have your overall condition documented as well as do any tests that are needed to ensure that you don't have anything that can pose problems for you in the future.
Not to mention, the word of a medical professional is solid evidence that can be presented in court (either via reports or a doctor's testimony, if necessary).
Step #10 – Ensure that your rights are protected and that you get treated fairly.
The only way to do this is to seek out proper legal representation and provide them with everything that they need to know in order to help you with your case. Every state is different when it comes to trucking laws, so make sure you go with the local options that you have available to you.
In the Houston area? Embrace the help of a proven truck accident attorney.
You don't want just anyone representing you, especially if you find yourself in a Houston truck driving accident as you need experience and knowledge in your corner. Jerome O. Fjeld has countless years of experience that has led to his clients being awarded millions of dollars in truck accident lawsuits and settlements, leading him to the inclusion of 2 of the most prestigious legal memberships in the industry (Million Dollar Advocates Forum and Multi-Million Dollar Advocates Forum).
Feel free to reach out and schedule your free consultation a trucking accident attorney via phone at the number located on this page or send over the details via the secure contact form here on the website.
Frequently Asked Questions About Truck Driving Accidents
Are truck accident lawsuits different than car accident lawsuits?
Absolutely, as there is a lot more at stake in an 18-wheeler accident with someone else on the road so insurance companies and trucking companies will protect themselves at all costs. This can make the settlement process take longer, require the need for a solid case, and dictate the way that things must be done to prove who the liability sits with.
Can I get compensated for lost wages from a truck driving accident?
If your injuries from an accident have prevented you from being able to work, you could be compensated for any lost wages. The wages that are eligible for compensations are the ones that are a direct result of the accident. For example, from the time of the accident until the point where you have fully recovered from the 18-wheeler accident.
Can I sue for being hit by a semi-truck?
If you weren't at fault when you were hit by a semi-truck, there is a chance that you could be eligible for compensation. Most truck accidents are settled before they have a chance to be heard in court, but at the end of the day, you can sue for being hit by an 18-wheeler. You will have to prove that the truck driver was liable and that your compensation amount is one that's adequate for the situation.
Do I need to hire an attorney for a truck driving accident?
This is the best route to take since insurance companies, as well as trucking companies, are bound to have a legal team working on the truck accident from their end. You don't want to be talked down on what was already a fair settlement, and you definitely want to have someone fighting for your best interests who knows the legal process that's involved with CMV (Commercial Motor Vehicle) accidents.
How is pain and suffering calculated for truck driving accidents?
Every case is different and this is a discretionary number which will be determined by an adjuster and negotiated, or a mediator at mediation or a jury if your case goes to trial. A good example is that they might find that the severity of your injuries can justify a significant amount of money.
How do I get the most money for a truck accident?
Make sure that everything is documented as it should be, ensure that the case you present in court is a good one, and have an experienced Houston personal injury lawyer representing you that knows the laws when it comes to 18-wheeler accidents. Ultimately, this is what a successful truck accident lawsuit primarily consists of.
What happens if a CDL driver gets in an accident?
The accident has to be reported to law enforcement, as well as their employer immediately. If the truck accident is fatal, a drug test will be required immediately. Fines and penalties for truck drivers are a lot more serious, and if the truck driver violated any laws that led up to the accident they could be held responsible if law enforcement deems it necessary to do so.
There are also further requirements depending on how severe a truck accident is. In serious truck accidents, the Federal Motor Carrier Safety Administration could send out investigators to conduct an accident investigation on a federal level. The local DOT (Department of Transportation) is also usually notified in times where a traffic accident involves any kind of semi-truck.
Why do insurance companies try to get out of settlements from truck driving accidents?
The truth of the matter is that insurance companies have a lot at stake when they start insuring semi-trucks and trucking companies. The amount of damage that a truck of this size can cause is a lot more than a
Necesita un abogado de accidentes de auto
Si, resultó lesionado en un camión o accidente automovilístico y solo habla español, visite nuestra página haciendo clic en el enlace: Abogado De Accidente De Auto En Houston.
Our law firm serves the State of Texas with our main office located in Houston, TX and if you need a trucking accident lawyer in Austin we have an office there to serve you as well as Victoria for clients in the South Texas regions. Of course, we are available by phone or zoom in any location and have helped injury victims across the United States.