Although Texas law requires all motorists to carry liability insurance, many drivers simply do not. Uninsured motorist coverage on your own insurance policy is the best way to ensure that you get compensation if you are in an accident with an uninsured. Here is what you should know if you are hit by a driver without insurance.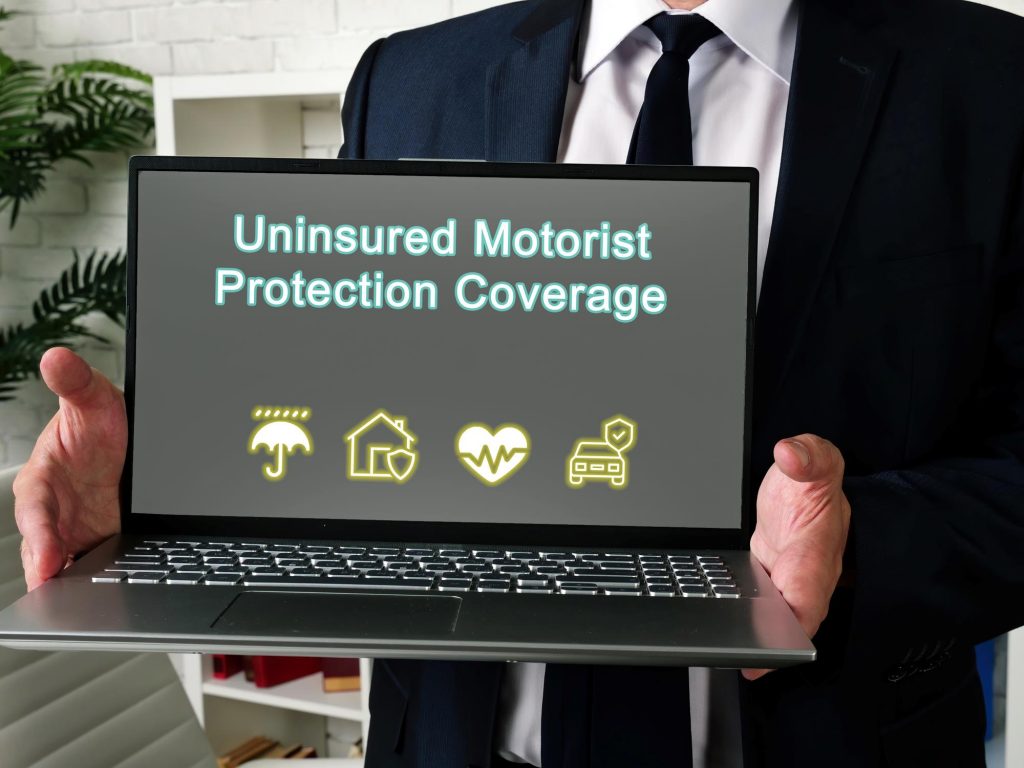 Uninsured Motorist Coverage in Texas
It is not required by law, but all Texas drivers are encouraged to enroll in uninsured motorist coverage. Your insurance agent must offer it to you and, if you decline, you must do so in writing. In Texas, it will cover you against hit and run accidents as well. It will also cover your relatives and unrelated passengers, as well as any licensed driver you give permission to drive your insured vehicle.
Uninsured motorist coverage is sold with underinsured motorist coverage. The difference between the two is that an uninsured motorist carries no auto insurance at all, while an underinsured motorist carries insurance and the liability coverage may not be enough insurance to compensate you for damages.
Filing an Uninsured or Underinsured Motorist Claim
The claims process works identically to the process for a filing a liability insurance claim. You will work with an adjuster from your own insurance company to negotiate matters of comparative negligence, damages, and ultimately compensation. Like any other insurance claim, though, the insurance company will be eager to settle the claim for as little as possible. It is well worth having an experienced car accident lawyer review any settlement offer to determine if it is fair and reasonable before you accept.
Filing a Lawsuit
If you do not have uninsured motorist coverage, your only solution is to file a lawsuit. A skilled car accident lawyer can walk you through the process step by step to ensure that your interests are protected. The problem, though, is that the majority of people who drive without car insurance do so due to a financial hardship. Though you might win your case, it is extremely difficult to collect money or assets from an uninsured or underinsured driver.
If you do not receive payment, your attorney can return to court to apply for a court order to compel payment. However, if the other party is legitimately indigent, he or she cannot be compelled to pay money that doesn't exist. It is a horrible situation to be in when your property damage and medical bills can't be paid by the at fault driver.
Your attorney can help you determine whether the uninsured motorist has any nonexempt assets that could be used to fulfill the judgment. In general, though, it is always best to carry uninsured and underinsured motorist coverage. It is far easier to collect money from your insurance company than from an individual.
If you paid for car insurance with uninsured or underinsured motorist coverage and your own insurer will not pay the claim you may have to file a personal injury lawsuit against them.
Ready to Get Started?
If you need a passionate and experienced personal injury attorney in the Houston area, contact Jerome O. Fjeld PLLC, PLLC today at (713) 572-6446 to schedule your free consultation. Categories personal injury claims, personal injury lawsuit, Resources Post navigation how does comparative negligence affect my accident claim?A Step by Step Guide to Your Personal Injury Lawsuit